Dr Chaitra Harsha
MBBS, PhD (IISc), MPWE (IIMB)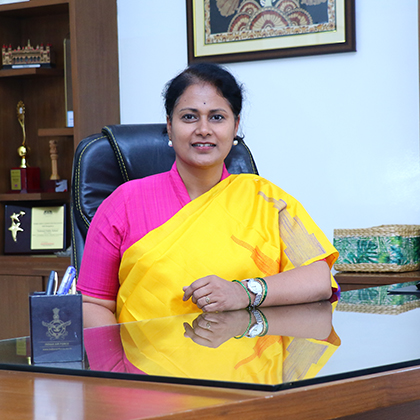 Dr Chaitra Harsha is currently the Managing Director of Vipragen Biosciences.
She personifies the realities of entrepreneurial success of new age India. Her educational qualification with MBBS degree and having been conferred PhD from Indian Institute of Science, one of the most reputed universities of the world and having brushed shoulders with management gurus at IIM Bangalore is just part of the story. The larger picture reveals her zest for experimentation and for putting entrepreneurial ideas through the road less travelled and building them into astounding success stories.
A recipient of award of Women Entrepreneur 2018 of Karnataka by EMERG.
Also amongst Top 100 innovators of Karnataka under the ELEVATE program of Govt of Karnataka.
A mentor of Global Startups, she is a Charter Member of TiE, Bangalore Chapter. A globe trotter and a wildlife photographer, reflect various shades of her dynamic personality. Dr Chaitra is actively involved in the conceptualisation of academic programs of NPS ITPL and is part of DR KP Gopalakrishna's team to advice and steer the efforts of team NPS ITPL in achieving highest standards of excellence in tune with the Legacy of National Public Schools.