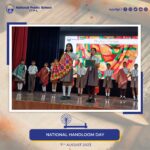 National Handloom Day
9th August 2023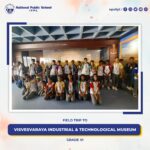 Field Trip to Visvesvaraya Industrial and Technology Museum
13th August 2023
National Public School, ITPL, Bengaluru organised a field trip for grade 7 and 8 students to the Jawaharlal Nehru Planetarium on 11 August 2023 with an objective of developing a scientific fervour, inculcating a scientific temper and fostering an attitude of inquisitiveness among the students.
On the way to the planetarium, students visited the Anti-gravity Park which had several  interesting science experiments. The students were enthralled to see the magnificent entrance of the planetarium which led them to a gallery that displayed various details of our solar system and launch of Chandrayaan – 3. They also witnessed a show on "Our Universe and Solar System" which showcased the beautiful night sky and then proceeded to introduce the prominent constellations, mythological stories associated with them, the planets and their motion around the Sun and the Earth. 
Certainly, the day-long trip has proved to be a great way for students to interact, explore and enrich their learning abilities.