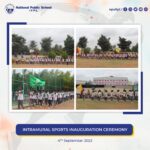 Intramural Sports Inauguration Ceremony
4th September 2023
On the morning of September 5, the students and staff gathered in the auditorium to celebrate Teachers' Day. The day is dedicated to honouring the incredible educators who shape our future. It was a day filled with gratitude, appreciation, and heartfelt tributes. Our students of Grades 1 to 8 took the lead in organizing this special event, showcasing their love and respect for their teachers. 
The programme included various heartwarming performances where students expressed their gratitude through poems, songs, and dances. It was touching to witness their sincerity and feel the affection in their words. Students of Grade 8 also conducted a few fun games and Tambola for all the teachers. Students presented their teachers with small tokens of appreciation by making handmade cards and writing thoughtful messages. The atmosphere was lively, with laughter and camaraderie filling the air. 
We cannot express enough how much our teachers mean to us. Their dedication, patience, and unwavering commitment to nurturing our students' potential are truly commendable. Teachers' Day at National Public School, ITPL served as a reminder that they are the guiding lights who lead us toward a brighter future.