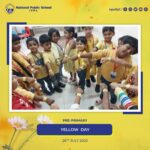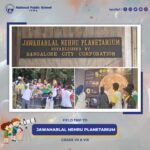 Field Trip To Jawaharlal Nehru Planetarium
13th August 2023
Grade VI students of NPS-ITPL paid tribute to the skilled artisans of our society by commemorating the National Handloom Day in the form of a special assembly on 7 August 2023. The assembly commenced by introducing the day as a recognition and appreciation of the hard work and skill of our talented weavers. While stating the significance of the day, students dated back to 1905 and threw light on the Swadeshi Movement which aimed at promoting handloom products and empowering rural artisans.
A fashion show extravaganza showcasing the exquisite handloom creations like Chanderi, Baluchari, Patola, Pochampally, Kanchipuram etc. had found a place in the assembly. A mesmerising dance performance on the theme was another attraction of the day.
The assembly was concluded by acknowledging the efforts taken by various organisations and the government to promote and preserve the traditional art form.