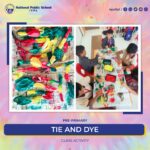 TIE AND DYE
4th September 2023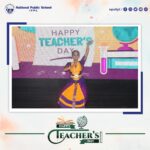 Teacher's Day Celebration
8th September 2023
"The ability to conquer one's self is no doubt the most precious of all things that sports bestows."
With the aim of fostering sportsmanship, dedication and team work among the students, NPS-ITPL organised its Inaugural Intramural Sports Ceremony on 4 September 2023. 
The event commenced with the March Past introducing the four distinctive Houses- Aqua, Ignis, Terra and Ventus. 
The spectacular and awe-inspiring sight of the students and House Captains marching past to the beats of the drum brought in a sense of pride and dignity to the whole school. 
All bowed to the flag of the school when it soared high in the sky motivating everyone to prosper. 
Flag hoisting was followed by the Olympic torch ceremony which ignited the passion for sporting spirit and spread the message of peace and friendship. Among the other attractions of the day were a Drill Display and Tug of War- the former, a disciplined and repetitious exercise talked about how to perfect a skill, the latter instilled among the students the importance of trust, unity, team-spirit and interdependence. The event concluded with the school Sports Captain proposing the Vote of Thanks.